12 Nursing Students Attend He Huliau Conference
Under the sponsorship of the IKE AO PONO program, twelve UH Manoa Nursing students attended the 2016 He Huliau Conference held at the Hilton Hawaiian Village on October 13-14, 2016. This year's conference provided the setting for an international indigenous health symposium, with panel discussions and breakout sessions on indigenous health research, interventions, and exciting new directions. Physicians, nurses, social workers, politicians, and students from around the globe came together to share challenges, triumphs, and innovative insights toward meeting the collective goal of indigenous health improvement.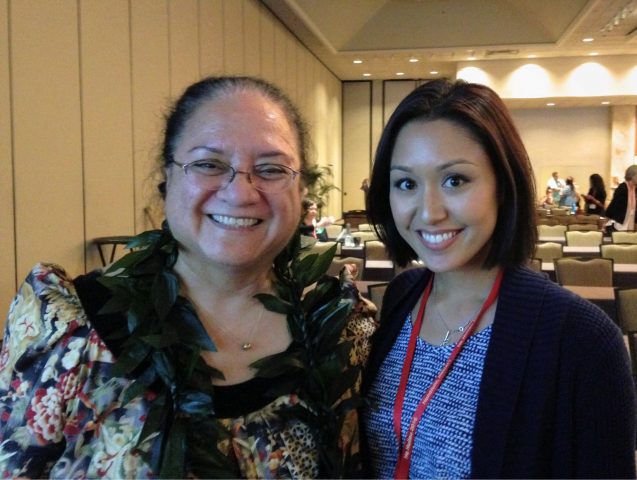 The conference also served as a means of networking and inspiration for the next generation of healthcare leaders. "This is my second year attending the He Huliau conference thanks to the generous support of the IKE AO PONO program. This year's event was particularly special to me as I had the opportunity to meet face-to-face with my UH Foundation scholarship donor, Dr. Naleen Andrade," said Yvonne Yokono, a second-year Doctor of Nursing Practice student. "Dr. Andrade was a keynote speaker, and is someone who I've strongly admired for her pioneering achievements in Native Hawaiian mental health research. Being in the presence of such passionate leaders was very inspiring … you could definitely feel the mana in the room."
The He Huliau Conference was presented by the Center for Native and Pacific Health Disparities Research, Department of Native Hawaiian Health, John A. Burns School of Medicine, and University of Hawaii at Manoa.
IKE AO PONO is a program at the UH Manoa Nursing designed to promote, mentor, and prepare nursing professionals to support the health, well-being and recovery of native islanders and all people of Hawaii.  For more information on the IKE AO PONO program, contact Director Nalani Minton at bminton@hawaii.edu.