Dana Ing, MSN, NNP-BC, APRN, APRN-RX
Associate Director for Pediatrics and Women's Health
UH Translational Health Science Simulation Center
School of Nursing and Dental Hygiene
University of Hawaii at Manoa
2528 McCarthy Mall, Webster Hall 306
Honolulu, HI 96822
Ph: 808-956-7993, Fax: 808-956-3257
Email: ingdana@hawaii.edu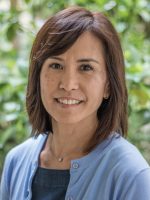 ---
Biography
Dana K. Ing, MSN, NNP-BC, is Neonatal Nurse Practitioner (NNP) at Kapiolani Medical Center for Women and Children's and Instructor at the University of Hawaii, School of Nursing. Her passion is caring for newborns and their families which she has done for the almost 20 years. Dana is board certified as a NNP through the National Certification Corporation. In addition to her NNP role, Dana is also a Regional Neonatal Resuscitation Program Trainer, STABLE Program Lead Instructor, American Heart Association Cardiopulmonary Resuscitation Instructor, Car Passenger Safety Technician and Certified Educator of Infant Massage.
Some of her honors include being recognized as the 1996 Hawaii Nurses Association Maternal- Child Nurse of the Year, Member of Sigma Theta Tau International Honor Society of Nursing, Minority Access to Research Careers (MARC) Scholar, and the recipient of nursing scholarships from Kaiser Permanente and Kuakini Medical Center.
Dana has co-chaired national conferences and has served on committees for conferences in Hawaii. In addition to committee involvement, Dana has been the speaker at both local and national conferences. Her interests include developmental care in the NICU which include her passion for Kangaroo Care (skin-to-skin holding), the late preterm infant and helping parents cope with the NICU experience.
Dana's interest in helping parents with the NICU comes from her own personal experience of having a high-risk pregnancy and twins who spent time in the NICU. Dana was hired as an Associate Director to integrate pediatric and women's health concepts into undergraduate and graduate simulation activities and to participate as a member of the Hawaii Nursing Simulation Collaborative.
---