Promoting Global Engagement on the USNS Mercy, Pacific Partnership 2015
This summer, UHM Nursing will participate in the United States Navy sponsored Pacific Partnership 2015 Mission (PP15) aboard the USNS Mercy naval hospital ship. The annual mission is a humanitarian assistance exercise that visits countries in Asia and the Pacific region. It brings together multinational, interdisciplinary teams of professionals from various sectors (public health, nursing, acute care services, dentistry, veterinarian services, engineering and others). Together, PP15 works with host nations to provide health, education, and services to individuals and communities.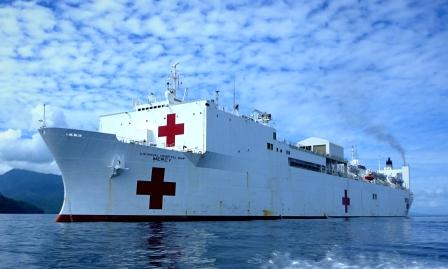 UHM Nursing's PP15 team includes faculty members Gary Glauberman and Teresa Parsons, and graduate student Stefan Fedusiv. The team set sail from Pearl Harbor in Honolulu, Hawaii, at the end of May and will visit Fiji, Papua New Guinea, and the Philippines. UHM Nursing's primary role on the mission is to engage local health professionals in community/public health educational exchanges focused on topics such as nursing care, community and environmental health, prevention and management of communicable and non-communicable diseases, and disaster preparedness. PP15 provides UHM faculty and nursing students with invaluable experiences in global health nursing, and strengthens our relationship with nursing colleagues in the Asia-Pacific region.
Updates from the Pacific Partnership 2015 mission will be posted on the Mission's official Facebook page at www.facebook.com/pacificpartnership. For more information, contact Gary Glauberman, UHM Nursing PP15 team leader at glauberm@hawaii.edu or Dr. Kristine Qureshi, Director of the Advanced Public Health Nursing program at kqureshi@hawaii.edu.