Student Nurses Association Participates in Community Events
TRIENNIAL AIRPORT DISASTER EXERCISE
UH Manoa Nursing students got sense of what it's like to be involved in a mass-casualty incident as participants of the 2017 Triennial Airport Disaster Exercise (TADE) on October 20, 2017, at the Daniel K. Inouye International Airport. The multi-agency full-scale exercise, organized by the Hawaii State Department of Transportation, brought together hundreds of volunteers and professionals to bolster disaster preparedness and response by simulating a full-scale aircraft emergency disaster.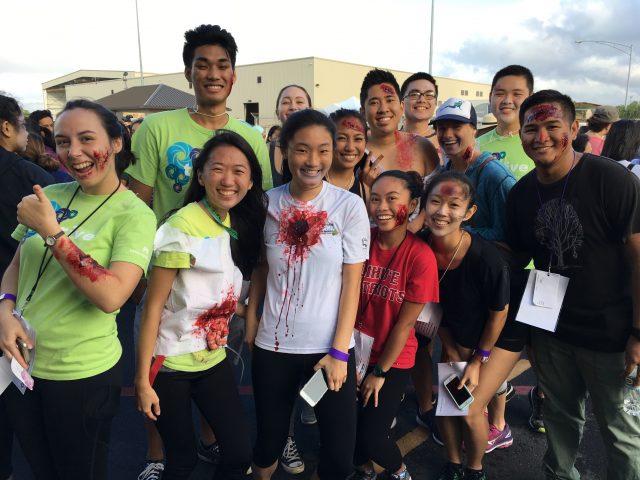 Nursing students from UH Manoa, Hawaii Pacific University, Chaminade University of Honolulu, airport personnel and many other agencies, participated as injured passengers and emergency responders during the exercise. The duties assigned to the nursing students ranged from performing triage at the crash site, to being victims of the crash itself.
DELETE BLOOD CANCER
UHM Nursing students took steps to "Delete Blood Cancer" by hosting a bone marrow donor registry drive on Thursday, October 26, 2017, at UHM Campus Center. This event successfully encouraged a number of interested UHM students to sign up to be potential bone marrow or blood stem cell donors. Many donors initially had questions about the potential pain and discomforts that come with bone marrow donation, however through the teachings provided by nursing students, clarifications were made and donors where more willing to enlist. The process of signing up to become donor took few minutes of completing forms and swabbing cheeks.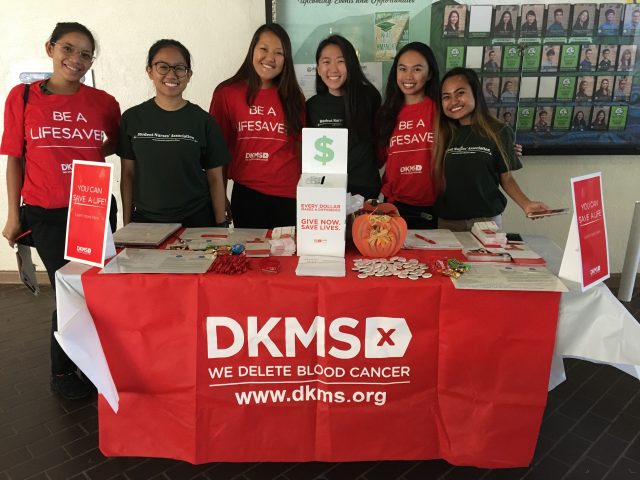 This event not only raised awareness and spread the mission of the Delete Blood Cancer drive, but it also brought together nursing students from different cohorts. Student from the Direct Entry to Nursing (DEN) program also participated, allowing them an opportunity to learn and teach campus peers about the Delete Blood Cancer initiative and how impactful it can be on others' lives.
The Delete Blood Cancer drive is an activity organized by a long-running international nonprofit organization known as DKMS (Deutsche Knochenmarkspenderdatei. In English, this translates to German Bone Marrow Donor program). DKMS was founded in Germany 25 years ago by Peter Harf, a doctor who lost his wife to leukemia. The mission of the organization is to fight against blood cancer and blood disorders by "creating awareness; recruiting bone marrow donors to provide a second chance at life; raising funds to match donor registration costs; supporting the improvement of therapies through research; and supporting patients from day one of their diagnoses." This organization has registered over 6 million potential donors worldwide. For more information about DKMS, visit www.dkms.org/en.
4TH ANNUAL HISNA CONFERENCE
On Saturday, September 30, 2017, Hawaii Student Nurses' Associated hosted a conference in partnership with local, neonate organization, Na Malama O Keiki at University of Phoenix. The theme for this year's conference was giving back. There were mini NCLEX reviews from Hurst, a speaker panel with NICU nurses and new graduate nurses, resume workshops, student mixers, giveaways and prizes! Student nurses from UH Manoa, Chaminade and HPU had a chance to interact with each other and have fun!