Summer 2013 Nursing Highlights
Establishment of a Lactation Support Program for American Samoa
A Clinical Practicum Project with the UH Manoa Nursing Executive Leadership Program
From an informal classroom discussion, two graduate nursing students embarked on a project which transformed nursing practice at LBJ Tropical Medical Center in American Samoa in the span of less than six months. Deb Trankel, RN, ILBC from The Queen's Medical Center and Josie Lam Yuen, RN from LBJ Tropical Medical Center completed an assessment of breastfeeding practices in American Samoa and proposed a project to introduce breastfeeding policies and practices designed to improve infant outcomes in the developing Pacific nation. The graduate student community assessment found a low rate of breastfeeding and lack of nursing knowledge about supportive techniques to assist breastfeeding mothers. Mobilizing U.S. Breastfeeding Coalition resources, Trankel collected staff and patient education literature while Yuen networked with LBJ leadership to secure support for education and interventions which included commitment to dedicate space for a breastfeeding room within the obstetrical unit at LBJ.
Arriving in July 2013, Trankel capitalized on the network facilitated by Yuen. Within a two week period, more than 80 hospital and nursing staff, 40 first responders, and a dozen church communities received training on didactic and hands-on techniques to improve breastfeeding success throughout American Samoa.   Present for some of the community education, staff training, and coalition building meetings, Teresa Parsons, Director of the UH Manoa Nursing Executive Leadership program joined the students to lend support to the highly successful endeavors. LBT staff immediately changed practice in labor & delivery and a documented reduction of infants requiring observation resulted. Palpable excitement of the interdisciplinary professionals at the first U.S. Breastfeeding Coalition meeting for American Samoa and the large number of attendees at the ribbon cutting for the fully equipped lactation room were two outcomes of this summer intensive experience.
Clinical projects within the Nursing Executive Leadership program focus on realistic, achievable goals with the intent of building the skills of the future nursing leaders and creating a synergistic partnership with healthcare organizations. This successful clinical project perpetuates a monumental shift towards healthy behaviors to improve population health. For more information about the Nursing Executive Leadership program contact Teresa Parsons at tapars3@hawaii.edu.
Inaugural IT Fair at Webster Hall
On August 18, 2013, the Nancy Atmospera-Walch School of Nursing Information Services group held the inaugural Information Technology (IT) Fair. Stations were staffed by both technical staff and faculty, and covered a variety of technology topics including Laulima, Intranet, IT Support, Email, Collaborate, iClicker, Web Conferencing, Online Discussions, Converting a Face to Face Course to an Online Format, and Poster Printing. There was a great turn out and attendees received a certificate upon completing a set number of training sessions during the fair. Thank you to all the attendees and their enthusiasm during the sessions.
Special thanks to the following people for their contributions to the fair: Estelle Codier, Alice Tse, James Callahan, Ashley Spencer, Kevin Lam, Reid Satsuma, Edward Goo, Jennifer Garcia, Youxin Zhang, Alex Cam Liu, Laura Reichhardt, Andrea Wade, and Erika Okamoto. If you have any technology questions, please contact Information Services by email at sondhis@hawaii.edu or by phone (808) 956-0981.
Nursing Student Completes Preceptorship in Germany
During the summer of 2013, fifth semester nursing student and Army ROTC Cadet Wei Burkes embarked on a four-week preceptorship at a United States Army hospital in Germany. As a future Army Nurse Corps Officer, the Army ROTC program offered Burkes the opportunity to travel to an Army hospital of her choice to participate in one-on-one shadowing in order to sharpen her nursing skills and become accustomed to military nursing. The program, titled "Nurse Summer Training Program (NSTP)," provides all nursing cadets with a voluntary clinical elective opportunity to further develop leadership and clinical skills in the hospital setting.
Burkes shadowed a registered nurse in the emergency department at Landstuhl Regional Medical Center (LRMC) working alongside providers, physician assistants, and medicsto assist in delivering care to military and local members of the Landstuhl community. LRMC is the first line health care facility receiving wounded warriors from Afghanistan and other conflict zones. Burkes had the opportunity to converse with combat support hospital nurses and learned the roles and responsibilities of working in deployable hospitals. She worked with other cadets to develop in-service presentations for the staff of the hospital, creating an overview on diabetic emergencies for use by the military community in Landstuhl.
Burkes gained more than 120 hours of clinical experience over the four-week rotation. She strengthened her assessment and docum
entation skills while triaging patients through the emergency department. She improved her communication skills while reporting to health care workers and interacting with patients. She also became proficient in clinical skills such as IV insertions, lab draws, and oral, intramuscular, and intravenous medication administration. "I definitely feel a lot more comfortable on the floor after my experience at LRMC," said Burkes. She found that "seeing is believing," as she helped treat a semiconscious patient brought in by German ambulance. Burkes gained more than just clinical practice from the Nurse Summer Training Program with the U.S. Army. "I was also able to do some traveling in Europe during my time there," she said, "I learned so much, both in and out of the hospital."
For more information on UHM Army ROTC Nursing, contact Captain Afuola at (808) 956-7766/7744 or aafuola@hawaii.edu. Visit UHM Army ROTC online at http://www.hawaii.edu/armyrotc/.
Dr. Estelle Codier Draws Students from Across Campus with Interdisciplinary Course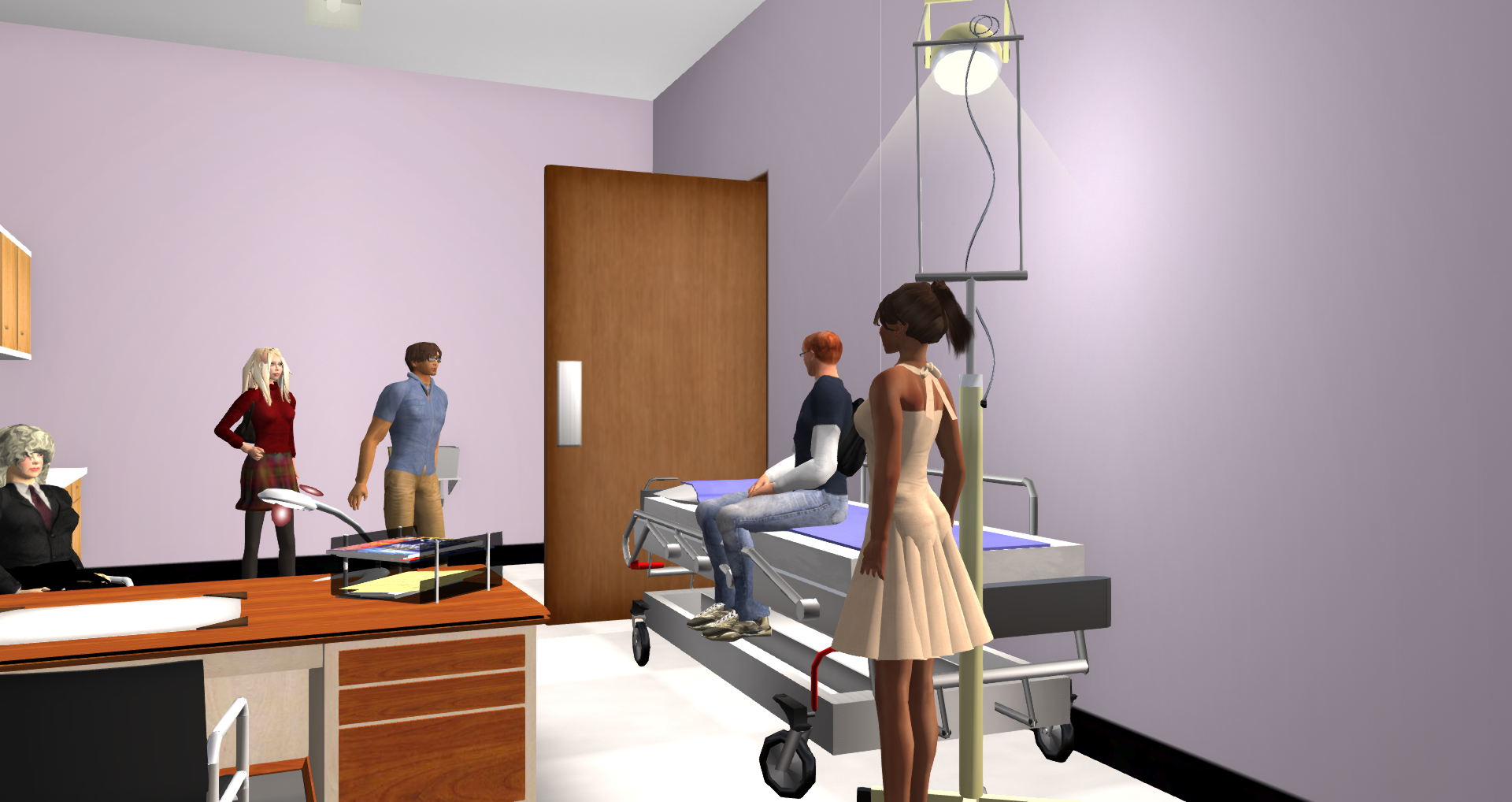 Dr. Estelle Codier was awarded tenure and promoted to associate professor this summer. Dr. Codier is continuing her work on emotional intelligence by developing and teaching an interdisiciplinary course for the UH Manoa Honors Department. Her course, "Developing Emotional Intelligence in Interdisciplinary Teams" has attracted students from health care disciplines as well as nine other departments across campus.
The course takes place half time in the classroom and half time in a multi-user virtual environment (MUVE), a "virtual world" where students – in their avatar form – take part in a wide variety of learning activities. This novel learning approach is based on evidence from Dr. Codier's National League for Nursing (NLN) sponsored research which focused on learning outcomes from more than 200 MUVE learning activities in Second Life. The findings of the research demonstrated that  MUVE student learning outcomes were at least as good, and in some cases superior, to traditional learning activities.
Students who are interested in this course should contact Dr. Codier at codier@hawaii.edu.
Students, Faculty Travel to American Samoa and Guam with the U.S. Department of Veterans Affairs
During the summer of 2013, UHM Nursing Assistant Professor Dr. Nafanua Braginsky and Adult/Gerontology Nurse Practitioner (AGNP) graduate student Bryan Wong travelled to American Samoa and AGNP graduate student Yushiu Lin travelled to Guam for a month with the U.S. Department of Veterans Affairs Rural Health Trainee Initiative Program (VARHTI). The program is a three year VA grant that was awarded to the John A. Burns School of Medicine with the goal of increasing inter-professional health care training experiences at VA Community Based Outpatient Clinics in American Samoa, Guam, and Hilo, Hawaii. These three sites were chosen for their potential to provide opportunities for the medical and cultural learning of health care trainees, and support trainees to work together as a collaborative team to provide care for the veterans in the community. The goal of the RHTI program is to have trainees return to sites to work as health care providers for veterans. The professions that are included in this program are nursing, medicine, public health, social work, pharmacy, and psychology.
In American Samoa, Braginsky and Wong supported VA clinic staff in Tafuna as primary care providers augmenting the two primary care providers that care for about 900 registered patients. Braginsky and Wong saw same day appointment patients and veterans that had not received care for a number of years. There were many learning opportunities at long term care facilities and at public health primary care clinics. The public health clinic opened at 5:30 a.m. but patients lined up from 4:00 a.m. to ensure their ability to see a doctor.  Additionally, Braginsky and Wong provided outreach to veterans at their homes. Braginsky and Wong seized these opportunities to educate patients on diabetes, high blood pressure, kidney disease, high cholesterol, and gout. Patients appreciated the extra time spent educating them on medications, diet, physical activities, and especially their lab results.
Braginsky, a native of Samoa, precepted and translated for Wong. One of the highlights of their experience was seeing how well the staff in the VA clinic worked together to optimize the use of limited resources. They were very helpful in facilitating the consults outside of American Samoa that could not be done via telehealth. Wong especially enjoyed the experience and has expressed his desire to return to American Samoa in the future.
In Guam, AGNP graduate student Yushiu Lin completed her capstone semester at the Guam Community Based Outpatient Clinic (CBOC) with preceptor Kevin Hitosis, DNP. During the month-long clinical rotation, Lin provided complex patient care in which she said, "everything came together – all the previous clinical experiences and didactic course work." According to Lin, the Guam CBOC was the most challenging clinical site she experienced during her master's program practicums, allowing her to build critical thinking skills. She managed patients with chronic diagnoses, those who experienced increased domestic violence, caregiver burn-out, end-of-life experience, and many amputee cases. Lin's capstone integration paper entitled "The MOVE! Project," focused on increasing veterans' physical activity. She negotiated a reduced rate for veterans at the Paradise Fitness Center in the hope that veterans would be more inclined to utilize the resources to remain physically active. While in Guam, Lin communicated daily with her two daughters on Oahu via Skype. She is a runner and, keeping in line with "The MOVE! Project," continued with her exercise regimen while there.
Nurse practioner graduate students who are interested in the U.S. Department of Veterans Affairs Rural Health Trainee Initiative Program, should contact their program directors to learn more about opportunities.
Northern Thailand Hill Tribe Experience
In June 2013, Sharon Jensen, an instructor with UHM Nursing and author of "Nursing Health Assessment: A Best Practice Approach", visited the Karin Tribe in the Chiang Mai Province of Northern Thailand. Jensen and her group were only the second group of Westerners allowed to stay overnight in this village.
There are five refugee tribes from Myanmar along the Burma border, and because of their refugee status and cultural differences with the acculturated Thai people, they tend to be isolated and function quite independently. Jensen and the group trekked through leech infested jungles and rice paddies for five hours to reach the Karin Village. Guided by a man named Piak, who is of Karin heritage, Jensen and the others placed tobacco in their socks – at his recommendation – to repel insects. Piak, who is educated in sustainable and natural agricultural methods, has been working with the tribes to reduce pesticide use on crops and to reduce burning as a method of soil renewal as it contributes to erosion on the hillsides and air pollution.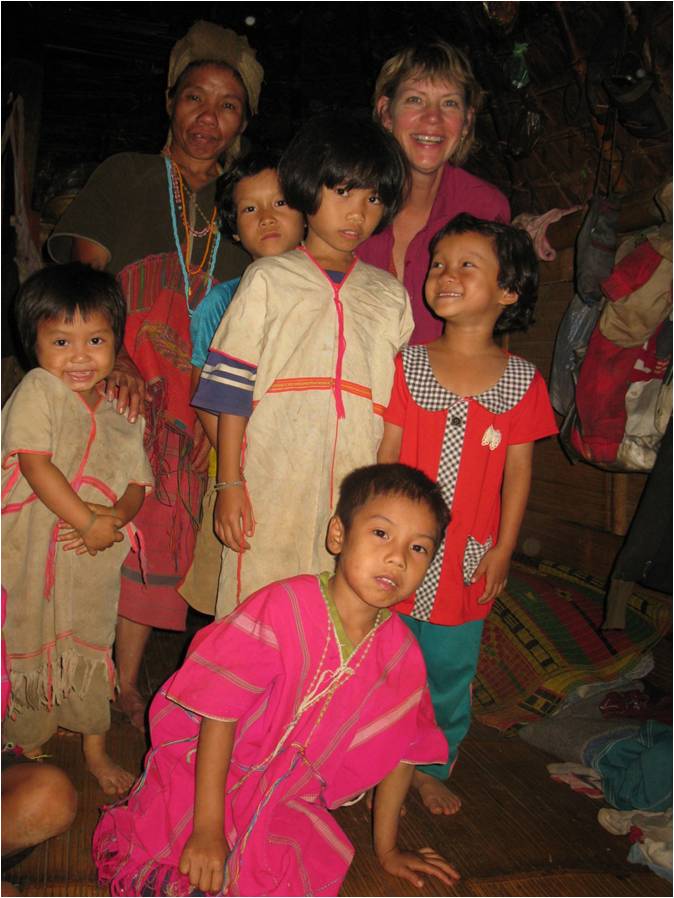 Karin Village has about 50 residents of various ages, all of whom depend upon the land for income and daily living. Housing is mostly single room homes raised on stilts to allow for water drainage during the monsoon season. These raised homes also provide shelter for animals including chickens, pigs, dogs, and roosters. Numerous medical hazards for falling exist due to steep stairways, balconies without railings, and walking in low lighting since there is no electricity at night and head lamps are the main nighttime light source.
A typical single room home has a fire pit in the center which provides heat and serves as the cooking source. Families gather in and near the pit, including children and elders who place their feet next to the coals. Hot teapots are always on the fire, creating burn risk especially for children. There is no ventilation thus asthma and pulmonary diseases prevail. During Jensen's visit, a young child was unable to go to school because of her asthma and although Western health care is available, most Karin prefer to use their own cultural healing methods. Other health issues noted were severe scoliosis and hyphosis (from many years of bending over in the rice paddies), malnutrition (usual diet is rice and chili sauce), visible goiters (locked inland, with no iodine in diet), poor dentition (poor dental hygiene and oral care, chewing of Beetle nut), and infestations/ exposures (observed father picking nits from child's head).
Jensen's experience visiting the Karin Village was a unique opportunity and served as an observational and learning experience through the lens of nursing and Western medicine. Many opportunities for improvement in their health status exist. For more information about opportunities to travel to Northern Thailand, contact Sharon Jensen at sjensen2@hawaii.edu.
Submit stories and photos about UH Manoa faculty, staff, students, and alumni to nursnews@hawaii.edu.