UHM Nursing Deployed on the Pacific Partnership 2015 Mission
UH Manoa Nursing deployed a team of nurses to participate in the U.S. Navy Pacific Partnership 2015 (PP15) mission. Pacific Partnership, which is led by the U.S. Navy, has a mission of advancing Indo-Asia-Pacific regional maritime security and stability. Much of the work of PP 2015 involves provision of humanitarian assistance and subject matter exchange with the host countries. This year's mission took place aboard the USNS Mercy.
This year's PP15 team was composed of two faculty members, Gary Glauberman and Teresa Parsons, and Stefan Fedusiv, a graduate student in the Nurse Executive Leadership (NEL) program. They visited Fiji and Papua New Guinea where their chief role was to provide service and engage in subject matter exchanges that focused on nursing, disaster preparedness, and community health.
While embarked on the mission, the team worked on many worthwhile projects. In Fiji, Glauberman and Fedusiv teamed up with colleagues from the U.S. Navy to coordinate health fair events in Suva, Seaqaqa and Savusavu. These events drew huge crowds each day, providing the people of Fiji with health education on topics such as disaster preparedness, nutrition, pediatrics, women's health, and the prevention chronic illnesses such as diabetes and cardiovascular disease. Parsons led Subject Matter Expert Exchange (SMEE) sessions which focused on nursing leadership at the Colonial War Memorial Hospital Nursing Conference which was located in Suva and also provided lectures about leadership on board the USNS Mercy for PP15 personnel.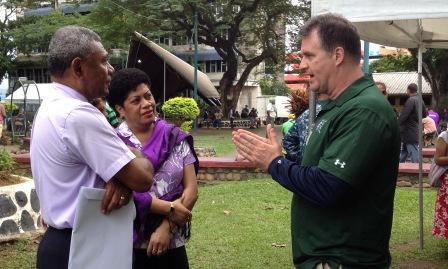 In Papua New Guinea, the mission was conducted in two locations – the town of Arawa, in the Autonomous Region of Bougainville, and the city of Rabaul, in the province of East New Britain.  In Arawa, Fedusiv assumed a leadership role as the team lead for the community SMEE engagements. Utilizing skills learned in the NEL program, Fedusiv initiated changes to the SMEE engagements that resulted in a more engaged staff and a reduction in the number needed to deliver effective health education to the community of the host country. Parsons worked with local nurses and exchanged ideas about how to enhance clinical diagnostic skills to better serve their communities. Other SMEE topics included women's health and violence prevention.
Prior to departing on the PP15 mission, Glauberman and Parsons collaborated with the Hawaii chapter of Sigma Theta Tau International (nursing honors society) to collect current edition nursing textbooks. The team had hoped for a few textbook resources to share with the host countries, but members of Sigma Theta Tau from several nursing programs throughout the State opened their hearts and donated more than ten boxes of nursing textbooks. These textbooks were distributed at every PP15 SMEE engagement site. Additionally, the UH Translational Health Science and Simulation Center (UHM THSSC) generously donated three obstetrical mannequins, which were warmly received by clinical instructors at Fiji National University Nursing School, St. Mary's Nursing School in Rabaul, and Buka Hospital in Papua New Guinea.
This is the fifth year that UH Manoa Nursing has participated in a Pacific Partnership mission. After each mission, the teams report that they return with a better sense of global health issues as well as an enhanced ability to work collaboratively with people from different professional backgrounds, cultures and countries.
Glauberman remarked that "it is really a privilege to work alongside the wonderful and highly skilled professionals in the U.S. military, as well as all the amazing nurses, doctors, and others we met in the countries we visited. We learned so much from working together and exchanging ideas, it's truly an amazing experience."
For more information, contact Gary Glauberman at glauberm@hawaii.edu or Dr. Kristine Qureshi, Director of Global Public Health Nursing at kqureshi@hawaii.edu.