American Academy of Nursing Fellow Deborah J. Mattheus Promoted to Professor
Dr. Deborah J. Mattheus, PhD, APRN-Rx, CPNP, FAAN, has been promoted to Professor with the University of Hawaii at Manoa, Nancy Atmospera-Walch School of Nursing (NAWSON). Mattheus currently holds the Nancy Atmospera-Walch Endowed Professorship in School Health and is the Senior Practice Director and Dental Sealant Program Director for the Hawaii Keiki: Healthy & Ready to Learn Program.
Educating future advanced practice nurses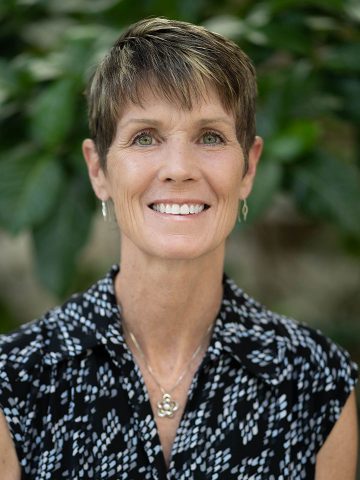 Mattheus has more than 30 years of experience as a certified pediatric nurse practitioner and more than a decade of experience as a nursing educator. She has been with NAWSON since 2014. Mattheus co-leads the NAWSON Research Committee and mentors Doctor of Nursing Practice students and junior faculty expanding their programs of research. She brings years of experience in grant writing and has successfully obtained millions of dollars in federal, state and private funding for research, quality improvement projects and program evaluations, in addition to the significant on-going funding for Hawaii Keiki to provide essential school-based health services in collaboration with the Hawaii State Departments of Education and Health.
"I am honored to be part of a select group of innovative, inspirational, and intellectual leaders in education and research at UH," said Mattheus. "I have always believed in the saying, 'if you dream it, you can become it' which has led to a successful career as a professional runner and U.S. and World Ultra-Running Champion during 2000-2004, a 30-year career as a pediatric healthcare provider, and now an Endowed Professor in School Health. As a first-generation college student, I learned to overcome setbacks of all kinds to reach my own personal goals while also working toward improving health equity for children and families, resulting in educational equity and future life and job opportunities."
Expanding school-based health services for public school students
As the senior practice director for the Hawaii Keiki: Healthy & Ready to Learn Program, Mattheus provides strategic direction and leadership for Hawaii's largest school-based health program. Initially launched in 2014, the program has grown from 4 nurses to more than 200 multi-disciplinary staff who serve more than 160,000 students in 258 public schools.
In the upcoming 2023-2024 school year, Hawaii Keiki will provide services to select Charter schools across the islands. The program has advanced practice registered nurses, school nurses, psychiatric mental health nurses, health technicians, dental hygienists, dentists, and other professionals dedicated to increasing student's access to quality healthcare. Most importantly, Mattheus has focused on building relationships with community partners and organizations to provide coordinated school health programs, services, and resources. Her ongoing program of research at NAWSON has transformed school-based health services in Hawaii. Mattheus has disseminated the program's best practices nationally and across the pan-pacific via webinars, presentations, and publications.
National recognition for promotion of oral health
Mattheus obtained federal and state funds in 2017 to assist in the development of a public health dentistry and dental hygiene training program and in 2019 to start a dental assessment/sealant program within school-based health centers. For these efforts, she was recognized as Hawaii's Oral Health Champion by Harvard University's Center for Integration of Primary Care and Oral Health. She has also received funding to address health disparities via developing/testing novel school-health programs including a telehealth program, an adolescent vaccination program, and a technology-driven intervention to improve screening for/access to mental health services.
She was a recipient of the Achievement Rewards for College Scientists (ARCS) Scholarship, Honolulu Chapter for her doctoral research study on the prevention of early childhood caries in primary care practice.
American Academy of Nursing Fellow Inductee
In October 2022, the American Academy of Nursing inducted Mattheus as a Fellow during the Academy's annual Health Policy Conference in Washington, DC, in recognition of her transformative work in the areas of oral health and school health including the creation of program addressing health disparities among children living in Hawaii.
"Deborah has transformed oral, physical, and mental health services for youth in public schools with her leadership at the University of Hawaii at Manoa, Hawaii Keiki: Healthy & Ready to Learn Program, and various statewide health committees and coalitions," said Holly B. Fontenot, PhD, APRN, WHNP-BC, FAAN, FNAP, research director for the department of nursing and professor. "Deborah's tireless passion and commitment to improving health outcomes for Hawaii youth is an example of how one person's dedication can truly make an impact for many. For the past decade, she implemented innovative programs that provide critical health services and education for rural and underserved populations. Deborah is a visionary and exemplary nurse leader. She represents the ideals of AAN Fellows."
Mattheus received her PhD from the University of Hawaii at Manoa, Master of Science in Nursing from Simmons College in Massachusetts, Bachelor of Science in Nursing from American International College in Massachusetts, and graduated from Agawam High School in Massachusetts. She is an advanced practice registered nurse with prescriptive authority and a certified pediatric nurse practitioner.
She joins this prestigious group of UH Manoa Nursing faculty members as Academy Fellows:
Mary G. Boland, DrPH, RN, FAAN (retired)
Katherine Finn Davis, PhD, RN, APRN, CPNP, FAAN
Holly B. Fontenot, PhD, APRN, WHNP-BC, FAAN, FNAP
Debra Mark, PhD, RN (retired)
Stephanie Marshall, MS, RN, FAAN (retired)
Kristine Qureshi, PhD, RN, CEN, PHNA-BC, FAAN (retired)
Alice M. Tse, PhD, APRN, FAAN
"I am honored to be selected for FAAN and to be recognized among the nation's nurse leaders in education, management, practice, and research," said Mattheus. "I am blessed to have had the opportunity to be mentored by several innovative, passionate nursing leaders and each person has given me critical guidance that has shaped my career, inspired me to embrace innovation, and to remind me of the importance of life balance. I believe in living life to the fullest, while always focusing on making a difference along the way which is one of the reason for choosing nursing as my career."
The American Academy of Nursing's approximately 2,900 Fellows are nursing leaders in education, management, practice, and research. Fellows represent association executives; university presidents, chancellors, and deans; elected officials; state and federal political appointees; hospital chief executives and vice presidents for nursing; nurse consultants; and researchers and entrepreneurs. The 2022 Fellows class represent 35 states, the District of Columbia, Puerto Rico, the U.S. Virgin Islands, and 17 countries. Through a competitive and rigorous application process, the Academy's Fellow Selection Committee, which is composed of elected and appointed Fellows, reviewed a record number of applications, representing a 30% increase from the previous year, ultimately selecting the 2022 Fellows based on their contributions to advance the public's health. Induction into the Academy is a significant milestone in which past and current accomplishments are honored by their colleagues within and outside the profession.
###
About American Academy of Nursing
The American Academy of Nursing serves the public by advancing health policy and practice through the generation, synthesis, and dissemination of nursing knowledge. Academy Fellows are inducted into the organization for their extraordinary contributions to improve health locally and globally. With more than 2,900 Fellows, the Academy represents nursing's most accomplished leaders in policy, research, administration, practice, and academia.
UH Manoa Nancy Atmospera-Walch School of Nursing
UH Manoa Nursing, the Nursing Capital of the Pacific, is the leader in nursing education and research in Hawaii with outreach to Asia and the Pacific Basin. We support the mission of the University of Hawaii at Manoa: to provide an innovative, caring and multicultural environment in which faculty, students and staff work together to generate and transmit knowledge, wisdom, and values to promote quality of life and health for present and future generations. The school offers the BS, master's, and doctoral programs. To reflect Hawaii's unique cultural diversity and heritage, UH Manoa Nursing is committed to increasing the representation of Native Hawaiian and other underserved people in all nursing programs. Visit us at www.nursing.hawaii.edu.
About Hawaii Keiki: Healthy & Ready to Learn
Hawaii Keiki is a partnership between UH Manoa Nursing and the Hawaii Department of Education and sits at the intersection of education and health to support the DOE to achieve student, school, and system success. The program is designed to improve access and quality of health services in the school by coordinating and expanding existing efforts of the partners and community resources. The program is enhancing and building school based health services that screen for treatable health conditions; provide referral to primary health care and patient centered medical home services; prevent and control communicable disease and other health problems; and provide emergency care for illness or injury. Visit us at www.nursing.hawaii.edu/hawaii-keiki.