For Students who have a Degree in a Field Other than Nursing and Do Not have an RN License
The Graduate Entry Program in Nursing (GEPN) offers post-baccalaureate entry to the Master of Science in Advanced Population Health Nursing (APHN), Doctor of Nursing Practice (DNP), and PhD in nursing programs. At the time of application to GEPN, the student selects a specialty area and graduate degree (i.e., MS, DNP, PhD). Once admitted, transfer from one specialty area to another is not encouraged. Transfer into or between the FNP or AGPCNP specialties is not permitted. Once enrolled in GEPN, a student may not apply as a new student to another graduate degree program.
Program Description
GEPN is designed for adult learners:
Who have not attended an RN educational program
Who have a baccalaureate degree in field other than nursing
Who are leadership bound and seeking a career in advanced nursing
The program consists of an intensive pre-licensure year of study that is delivered across three continuous semesters. Emphasis is placed on health promotion and disease prevention as well as the care of the acutely ill person.  A substantial amount of the curriculum is clinical practicum in community and hospital/health care settings where students are actively engaged in nursing care under the supervision of faculty. Threaded throughout the curriculum are research, patient safety, community nursing health, and cultural diversity as well as the various contexts (i.e., historical & social) of nursing, nursing roles, and the core values of the profession.
Upon completion of the first year the student is eligible and takes the NCLEX-RN, the national licensing exam. The student transitions immediately into their graduate nursing specialty degree track and begin courses for their advanced degree.
Fast Facts
Enables qualified nurse professionals to enter the workforce in a shorter period of time increasing the pool of nurses prepared to assume leadership roles in practice, education and research.
The first year of intensive study is offered in a tri-semester format of 16 -18 credits per semester. Due to the rigor and scheduling, students are advised not to be employed during this year.
Students should plan on being physically present on the island of Oahu during the entire month of August and for the remainder of the pre-licensure year course work. The New Student Orientation is typically conducted the first week of August.
Program Outcomes / Competencies
At the completion of their program, the student is awarded one of three degrees:
Master of Science in Advanced Population Health Nursing that prepares graduates for practice roles include education, case management, clinical practice, consultation, community outreach, research and management/administration.
Doctor of Nursing Practice Degree that provides graduates with the skills and knowledge for advanced nursing practice and organizational leadership.

Family Nurse Practitioner
Adult-Gerontology Primary Care Nurse Practitioner
Organizational Leadership

The PhD Degree that prepares graduates with the knowledge and skills to conduct research and generate new knowledge.
Specific program outcomes for each degree are found on the degree overview pages.
Informational Sessions
The school offers informational sessions in-person and also online via web conferencing. Visit the event page for upcoming GEPN informational session dates.
Contact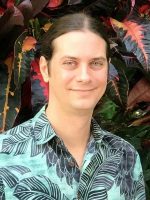 Christopher P. Stutes, MLA
Graduate Entry Program in Nursing Coordinator
---
Contact for applicants and enrolled students in the Graduate Entry Program in Nursing (GEPN).
School of Nursing and Dental Hygiene
University of Hawaii at Manoa
2528 McCarthy Mall, Webster Hall 224
Honolulu, HI 96822
Phone: (808) 956-0445
Fax: (808) 956-5977
Email: gepn@hawaii.edu
Co-Directors
Prospective and current students should contact the GEPN Coordinator for all questions.
Karol Richardson, PhD, MPH, APRN
Graduate Entry Program in Nursing Interim Co-Director & Associate Professor
---
University of Hawaii at Manoa
School of Nursing and Dental Hygiene
2528 McCarthy Mall, Webster Hall 413
Honolulu, HI 96822
Phone: 808-956-5226
Fax: 808-956-3257
Email: karolr@hawaii.edu
Lorrie Wong, PhD, RN, CHSE-A
Director of UH THSSC, Graduate Entry Program in Nursing Interim Co-Director & Associate Professor
---
UH Translational Health Science Simulation Center
School of Nursing and Dental Hygiene
University of Hawaii at Manoa
2528 McCarthy Mall, Webster Hall 307
Honolulu, HI 96822
Ph: 808-956-7709, Fax: 808-956-3257
Email: lorriew@hawaii.edu